HOSPICE GEORGIAN TRIANGLE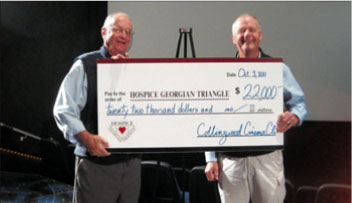 The Collingwood Cinema Club is a non-profit cultural organization showing quality Canadian and International films. Each year, funds are transferred to this important charity.
In October, on behalf of the Collingwood Cinema Club, Bud Christensen presented a cheque for $22,000 to Ron Emo, Past Chair of HGT. This represented the Club's contribution to HGT for the 2010/2011 season.
These funds will be used to support the Susie Newton Respite Suites offering a home-like setting for individuals to stay for up to two weeks at a time to give their caregiver an often much needed break.
Hospice Georgian Triangle
49 Raglan Street,
Collingwood, ON
L9Y 4X1
Or simply call us at 705-444-2555
You can also visit our web-site at
www.hospicegeorgiantriangle.com