Commercial Sponsors enable us to cover the costs of acquiring great movies for our members at an affordable cost. It also enables us to donate significant funds to our two local charities Collingwood G&M Hospital and Hospice Georgian Triangle at the end of each season.
Our major sponsor is Todd Christensen, Vice
President and Investment Advisor with RBC
Dominion Securities Inc., offering personal
guidance with all your investments.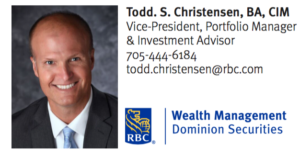 Click the link below
https://ca.rbcwealthmanagement.com/web/todd.christensen
• Discretionary investment management
• Financial & retirement planning
• Retirement income strategies
• Will & Estate planning
• Risk management solutions
tel: 705-444-6184
email: todd.christensen@rbc.com