WIN LAST WEEK'S POSTER
ANSWER TRIVIA QUESTION
MOVIE:

Feb 24,   MARIANNE & LEONARD

TRIVIA QUESTION:   What singer sang with Leonard and convinced him that he could sing onstage?
Mail Movie title and answer to     collcinclb@yahoo.ca  by  6 pm Wed Feb 26
Winner drawn from correct answer emails.
Announced in email flyer and here
Pick up poster at Inquiry Desk.
*NEW HOT LINE NUMBER*
705-429-1176
DATES FOR JAN-APR 2020
JAN  20,27
FEB  3, 10, 24
MAR 2, 9, 23, 30
APR 6, 20, 27
FESTIVAL 

Apr 29, 30
MOVIES TO APR 20  ARE POSTED
SOLD OUT  2019-20
NO CASH SALES
SUBSCRIBERS ONLY
NEW SUBSCRIBERS
APPLICATIONS AVAILABLE IN APRIL
PRINT FROM SITE
or at GALAXY on Movie Nights in April

OUR CHARITIES
The Collingwood Cinema Club is a non-profit, cultural organization which donates funds each year to our charity of choice.
 In 2019-20, the Cinema Club donated $20,000 to Hospice Georgian Triangle.
A big THANK YOU to generous Cinema Club Subscribers who donated another $29,662 to Hospice.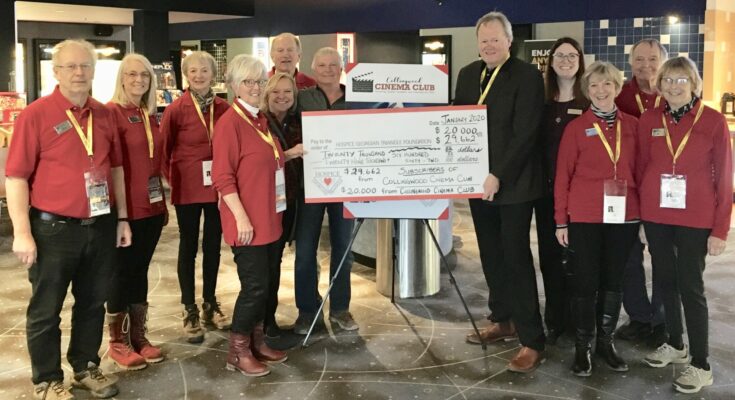 Collingwood Cinema Club also donated $25,000 to the Collingwood G & M Hospital.